Next CPL Theory Course - 2 Oct
Our next commercial theory course run at our hangar at Redcliffe starts on Tuesday 2 Oct. The first subject will be Meteorology. We still have seats available if you are ready to knock over your theory subjects. It is also possible to attend for individual subjects but please let us know if you are keen to take this option so that we can work with you on scheduling. Just hit 'reply' to this email and let us know what you need theory wise.
Hangar Theory and Pizza Night - 17 Sep, 5:30 - 7:30pm
Next in our semi-regular theory nights. Bring in your helicopter theory questions and have them covered in a group learning environment. Discussion will also cover risk management and the Helicopter Pilot's Model Code of Conduct.
Virtual Reality flight sim will be available for use. Please bring $5 to go towards pizza cost if you are having dinner. Please RSVP for catering.
Open Day at Redcliffe Aerodrome
On Sunday we took part in the Redcliffe Aero Club's annual open day. Our 2 R44s were part of the static display along with a large variety of fixed wing aircraft, sports cars, Lions Club BBQ, jumping castle and joyflights. This was another good opportunity to get out there and promote the industry. Big thanks to Dave Harper for your help with packing up the display in the afternoon.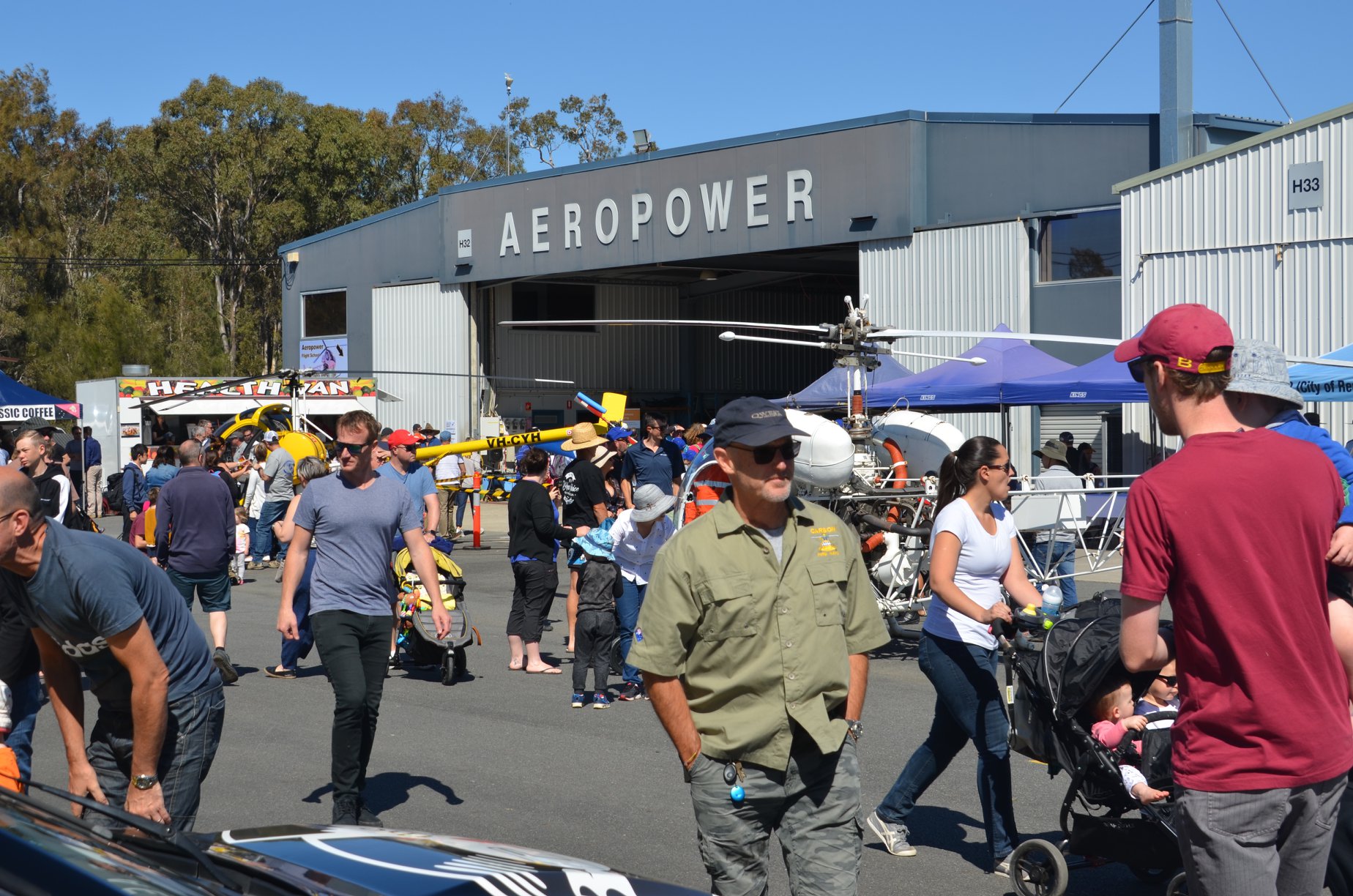 New Additions to the Team
We are excited to have Nicholas joining the flight school team part-time as a junior 'aviation consultant'. Nicholas is in Year 10 at Mueller College and will be assisting with general tasks and helping with aircraft turnarounds on busy Saturdays.
Another very special addition is young Michael born on 7 Sep. We are all very excited for Rob and Loralie with the arrival of their little chap. Rob H. will be taking some time off on parental leave.
#whereswarren
After a 90 flying hours project in northern Queensland, Warren has returned and is back on line instructing at the flight school. Thanks to everyone that got involved on Facebook with the #whereswarren guessing from his photos. Some of you are very good with your north Queensland geography!
Junior Aviator Program
In Tangalooma news our crews there have created a junior aviator program for resort guests. It involves a workbook, helicopter briefings and certificate. The program works towards educating kids about helicopters and aviation as a future career path as well as being a fun activity on the island for creating those holiday memories.
Fuel measuring systems
Two common fuel quantity reading systems are the float and capacitance probe. In our fleet we have both types. Do you know which ones are used in the Robinson R44 and in the H269/300CBi?
For the curious or as a refresher a capacitance fuel probe works by measuring the change in capacitance depending on the amount of the probe that is submerged in fuel. The higher the fuel level, the greater the amount of capacitance measured. This is converted to a fuel quantity amount on the fuel gauge.
Don't forget! Next Monday night is Theory and pizza in the hangar from 5:30pm. Please RSVP - Click here