The Cabri G2 is the most modern small training helicopter in Australia. Aeropower is the only operator of the type in Queensland with our newly arrived machine VH-LTO.
Today we started the first endorsement training for one of our past students Scott. Scott has held his helicopter licence for a number of years after initially training at Aeropower. He owns his own Bell 47 helicopter and has an infectious interest and enthusiasm for all things aviation.
From the first moment that news broke about the arrival of the new Cabri G2 Scott has been harassing us to get his chance to fly this beautiful new trainer.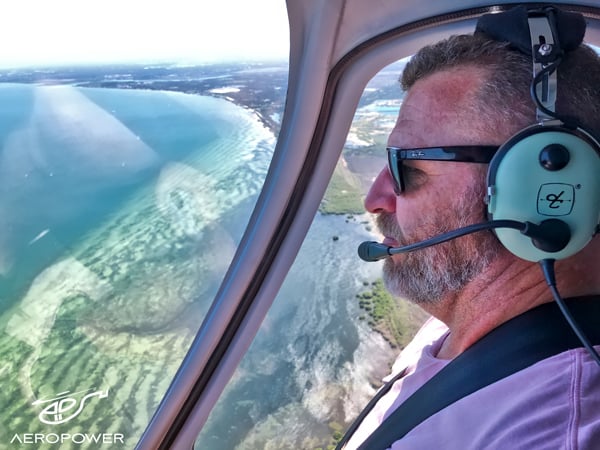 And today we got the chance.
The weather was clear with approx 15kts north easterly blowing as we departed Redcliffe Airfield and tracked north along the coast past Deception Bay and Beechmere on the way to Bribie Island. Once established in the area it was time to cover the upper air components of the aircraft familiarisation leading up to a practise forced landing to experience the autorotational characteristics of the Cabri G2.
Then it was back into the circuit for approaches, hover manoeuvers and straight-in autorotations.
All in all a great way to spend an afternoon.
Did you know that you can complete all the start-up and shutdown checks and fly the Cabri G2 in our virtual reality simulator before stepping into the real aircraft?
If you would like to gain your Cabri G2 endorsement and complete a Helicopter Flight Review then please email fly@aeropower.com.au